1/2
HD SLR Co2 Laser Textile Cutting Machine,Cnc Fabric Cutter
$ 7000.00 ~ $ 10000.00/unit
1/unit
(Min. Order)
Quick Details
Payment:
PayPal,VISA,MasterCard,Western Union,L/C,T/T,D/P,D/A
Supply Ability:
30 unit per day
Quick Details
Product name

Fiber Laser Cutting Machine

Keyword

Co2 Laser Cuting Machine

power line

AC220v±10%,50/60HZ,10Amax

Size

2300mm*2460mm*2700mm

Processing size

1000mm*1200mm

laser power density

80W/100W/130W/150W/180W

kinematic diagram

CNC
Customized HD SLR Co2 Laser Textile Cutting Machine,Cnc Fabric Cutter Factory

Co2 laser cutting machine Specification
Product model
FW-1012 Co2 laser cutting machine
Camera pixel
100D/1300D
Cutting material
Fabric, acrylic, plexiglass, leather, MDF, plywood, paper, plastic, rubber, wood, textiles, etc.
Accept customization
yes
Cutting speed
0-6400 mm/s
Voltage
220 V
Cutting thickness
0-20 mm
Guiding material
Aviation aluminum alloy
Packaging
wooden frame and wooden box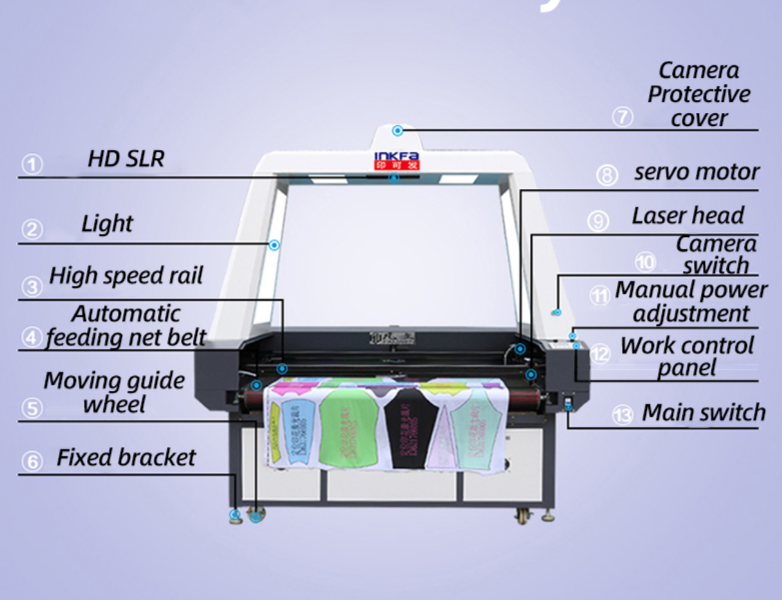 ⭐HD SLR
The machine is equipped with Canon's 18-megapixel dedicated camera, which can accurately identify the edges of various pat-terns and automatically generate cutting paths with an error of +0.02mm.only perfect camera can be used for perfect cutting.
⭐Laser head
The laser head focusing lens adopts imported lenses from Singapore; it is durable, the beam stability is strong and the safety head is pro-tected, and the lens is free from high tempera-ture cracking; and it is equipped with intelli-gent induction blowing and precise red posi-tioning system.
⭐Glass tube sealed off CO2 laser tube
Co2 laser tube has stable and fine light, high precision and smooth burr on the cutting sur-face; and the laser tube has high tolerance to harsh environment dust, vibration, tempera-ture and humidity.
⭐Work control panel
The control panel has storage space for the machine to store files to work offline. When the machine is cutting, the panel can simulta-neously display the cutting path, the cutting speed, and the time required for cutting. The maximum and minimum power during opera-tion can be displayed comprehensively. The cutting position can be Positioning cutting at any time, work can start/pause, stop, and reset at any time. USB interface is also conve-nient to transfer data at any time.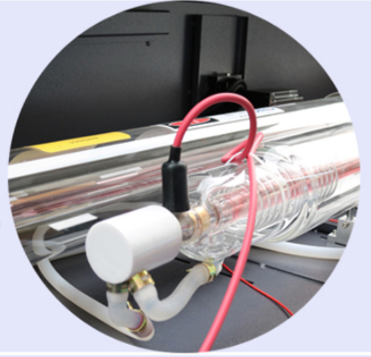 ⭐Servo motor
A good motor makes the machine motion system smoother, faster, and has higher cut-ting accuracy. It takes only a few milliseconds from standstill to working speed, and the motor failure rate is very low, almost zero fault.
⭐Automatic feeding net belt
The herringbone feeding mesh belt replaces the traditional B-shaped feeding mesh belt. The herringbone mesh belt is more sturdy, denser and less deformable than the tradi-tional mesh belt, so that the feeding is always accurate and stable.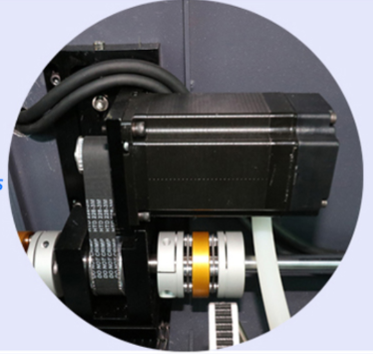 ⭐Industrial stable cooling water tank
The L-5200 constant temperature cold water tank is used to cool the laser tube. The life of the laser tube is longer and more stable. By controlling the refrigerant solenoid valve, the cooling capacity is adjusted in real time to ensure the stability and accuracy of the cooling system. Specific intelligent and constant modes of operation for a variety of ambient tempera-tures With temperature over temperature alarm, sensor fault self-diagnosis function.With compressor over-current overload protec-tion. Water flow alarm function.
⭐Air pump
It is mainly used for blowing when cutting,and the smoke generated during cutting is blown to the blasting area under the ma-chine for easy discharge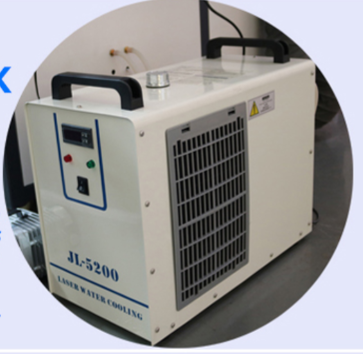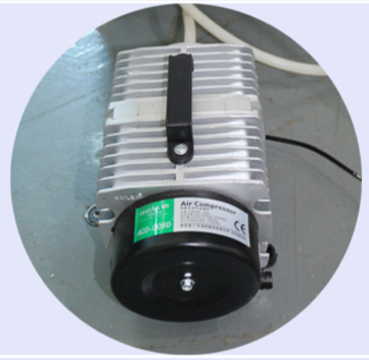 ⭐Blower
High-powered fan, for some materials, there is smoke generated during laser cutting, and the smoke is well discharged to the outside through the blower.
⭐Synchronous feeder system
The automatic feeding rack is made of exqui-site steel rubber roller and equipped with a synchronous motor system. The synchronous system is connected with the main equipment to ensure the speed, time, trajectory and feed-ing mesh of the feeding rack are accurately synchronized. There will be no pulling phe-nomenon.
Application industry
Widely used in sportswear,cycling wear,swimwear,dance wear,printed clothing,home textiles,footwear,lace,handbags sofas,bags,car seats,leather goods plush cloth toys,paper products etc.
Application material
Applicable to all kinds of chemical fiber fabrics,cotton fabrics,poly-ester fabrics,silk fabrics,decorative fabrics,medical fabrics,water-proof fabrics,leather,artificial leather decorative leather,soft cotton,paper,carpet and other materials.